Back to people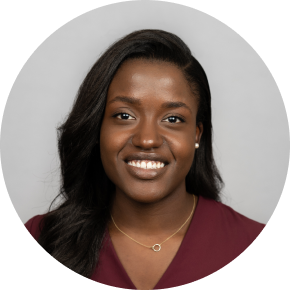 Christina Williams, PharmD
"I pursued a career in the healthcare industry out of my desire to help others improve their health and wellness. I am driven by the ability of medications and medical devices to target the specific needs of patients and improve the health and quality of their lives."
Contact Christina
Christina Williams, PharmD is an experienced healthcare professional, recognized for her understanding of key scientific issues, managing teams, and paying attention to detail.  As a project manager, Chrissy prepares 3D clients for FDA Advisory Committee meetings by developing clear scientific slides, managing project timelines and milestones, and coordinating meeting logistics.
Approach
Chrissy leverages her experience as a front-line pharmacist to help clients in her multi-faceted role at 3D Communications. She uses her ability to translate complicated medical information to patients into creating clear scientific slides that resonate with an audience. Her experience managing a team of pharmacy technicians helps her run projects and keep scientific and regulatory teams on track. 
Background
Prior to joining 3D, Chrissy managed a pharmacy in Florida where she fulfilled numerous roles including, filling prescriptions and ensuring the accurate dispensing of medications, providing counsel to patients on their medicine and wellness, and supervising the pharmacy team. Chrissy received her Doctor of Pharmacy from Florida Agricultural and Mechanical University.
Special Interests
In her free time, Chrissy enjoys volunteering, working out, traveling, and spending time with family and friends.