Back to people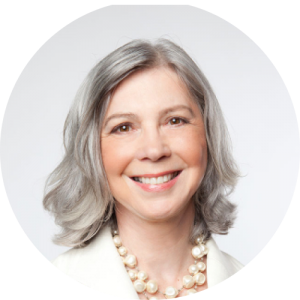 Marie-Claude Stockl, MA, ACTP
"There is an art to presenting complex data in a highly regulated environment. True artists speak from their heart and get to the middle ground that resonates with their audience: the well-being of patients."
Contact Marie-Claude
Marie-Claude is a certified executive coach and facilitator with decades of communications experience in healthcare, academia, consumer products, and luxury goods. She approaches communications coaching as an active listener who quickly makes connections, and wastes no time getting results.
Approach
Marie-Claude's approach to communications coaching focuses on helping leaders do more of what they do well as communicators. She applies the 80/20 rule to take executives' skills to the next level – identifying one or two improvements that will yield the greatest results, and working to eliminate distractions and help increase focus on communications. Marie-Claude developed her unique approach to coaching from her expertise as an equine-assisted leadership trainer – team-building with horses. Native-born French, Marie-Claude conducts trainings in both English and French.
Background 
Prior to 3D Communications, Marie-Claude spent 20 years as a communications executive at Nestlé Foods, Bristol-Myers Squibb, and Revlon. She has given thousands of media interviews and has appeared on several national news programs. She has coached Olympic medalists, a former United States president, and global thought leaders in medicine and science, technology, engineering, and mathematics. She began her career as an account executive for champagnes from France. Marie-Claude holds bachelor's and master's degrees in communications from the University of Paris. She is a certified executive coach through the Accredited Coaching Training Program (ACTP).
Special Interests
Marie-Claude and her husband live on a horse farm in New York, where they conduct experiential leadership programs with horses. She is the volunteer president of the Equine Experiential Education Association, and a longtime board member of the Harlem Valley Rail Trail Association. In her spare time, she loves to be on her tractor caring for the farm.