Back to people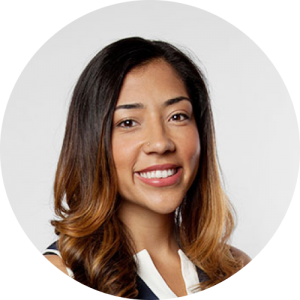 Natalie Vargas Monegro, MBA, MPH
"Say what you mean, mean what you say – and show data in a way that supports what you say and mean. I'm passionate about helping clients communicate genuinely and authentically and showing them how to back up what they say."
Contact Natalie Vargas
Natalie is a seasoned communicator who brings together her passion for writing and her scientific background to help clients communicate in their unique voice – and make an impact. She is recognized for her straightforward and up-front coaching style and her willingness to lend a helping hand to get the job done. She is fluent in Spanish.
Approach
Natalie takes a down-to-earth approach when working with clients. She leverages her previous experience as a high school chemistry teacher to translate complex issues into simple messages for any audience. She gains her clients' trust by listening to their insights and dissecting the data together. Natalie transforms ideas into meaningful stories and masterful presentations – and then coaches clients to deliver narratives with clarity, confidence, and authenticity.
Background
Natalie has worked as a consultant for more than a decade, providing strategic guidance to pharmaceutical, medical device, and biologic companies. She has designed document management and medical information systems, developed clinical trial protocols, written technical white papers and device brochures, and become a PowerPoint expert. She holds joint master's degrees in health systems and policy and in marketing from the University of Medicine and Dentistry of New Jersey and Rutgers University, and a bachelor's degree in bioengineering from the University of Pennsylvania.
Special Interests
Natalie is a supporter of Prospanica, a nonprofit dedicated to developing Hispanic talent and growing the number of Hispanics in higher education and leadership positions. In her spare time, she enjoys writing short stories and personal essays, playing outdoor sports – especially volleyball – walking her two loving pit bulls, reading about how to be a sane parent, singing loudly in the shower, and traveling and tasting the world.