Many new drugs that get to market today are reviewed and approved under one of the Center for Drug Evaluation and Research's (CDER) expedited approval pathways. In 2018, 43 of the 59 new drugs approved by the FDA were reviewed through an expedited approval pathway. These pathways were developed after criticism from patient groups during the AIDS epidemic in the 1980s that the FDA took too long to approve potentially life-saving new drugs.
The four main expedited pathways – Fast Track, Breakthrough Therapy, Accelerated Approval, and Priority Review – offer opportunities for sponsors to gain expedited approval and extra incentives when submitting New Drug Applications (NDAs) to treat serious conditions (see Table 1). The programs aim to get important treatments to patients in need as quickly as possible, while still maintaining careful control over safety and efficacy.
Here's a brief overview of these four pathways.
Fast Track Designation
Fast Track designation was introduced by the FDA Modernization Act (FDAMA) in 1997 and amended by the Food and Drug Administration Safety and Innovation Act (FDASIA) of 2012. Fast Track is granted to drugs intended to treat serious or life-threatening conditions, with data that demonstrate the potential to address an unmet medical need. "Serious conditions," according to the guidance document, are persistent or recurrent and associated with morbidity that substantially impacts day-to-day functioning; an unmet medical need is a condition for which available therapy does not provide adequate treatment.
The goal of Fast Track is to get important new products to patients faster than traditional NDA approval. One of the benefits of Fast Track is a rolling review, in which the FDA allows sponsors to submit their NDA in sections as they complete them. Fast Track also increases the probability of Priority Review (see below), and other actions to expedite development and review, such as more opportunities for FDA interaction.
Sponsors may request Fast Track designation with their Investigational New Drug (IND) application or after, and ideally no later than the pre-NDA meeting. The FDA provides a designation response within 60 days of receipt of the request. Importantly, the FDA can revoke Fast Track designation at any time if the product no longer meets the designation criteria.
Examples of recent Fast Track approvals include GW's Epidiolex (cannabidiol) for seizures associated with Dravet syndrome in patients age 2 and older, and Astellas' Xospata (gilteritinib) for adult patients who have relapsed or refractory acute myeloid leukemia (AML) with an FMS-like tyrosine kinase 3 (FLT3) mutation.
Breakthrough Therapy Designation
Breakthrough Therapy designation was also enacted as part of FDASIA in 2012. A drug is considered a Breakthrough Therapy if it is intended to treat a serious or life-threatening condition, and when preliminary clinical evidence indicates that it may be more effective on at least one clinically significant endpoint compared to existing therapies. Like Fast Track designation, the goal of Breakthrough Therapy designation is to bring new, potentially life-saving drugs to patients quicker than with traditional NDA applications.
With Breakthrough Therapy designation, FDA offers sponsors intensive guidance on efficient drug development. The agency also offers an organizational commitment involving senior managers to collaborate with the sponsor to expedite development, as well as rolling review. Note that Breakthrough Therapy designation does not absolve the sponsor from providing clinical data to support substantial evidence of efficacy and safety (see Accelerated Approval).
Sponsors can submit requests for Breakthrough Therapy designation with their IND or after, but ideally no later than the End-of-Phase 2 (EOP2) meeting. The FDA provides a response within 60 calendar days of receipt of the request. Like Fast Track designation, the FDA can revoke Breakthrough Therapy designation if the product no longer meets the qualifying criteria.
In 2018, CDER received a total of 57 Breakthrough Therapy designation requests and granted 24. In 2018, CDER approved 14 new drugs through the Breakthrough Therapy designation pathway, including Insmed's Arikayce (amikacin liposome inhalation suspension) for Mycobacterium avium complex (MAC) lung disease.
Accelerated Approval
The Accelerated Approval Program began in 1992 under 21 CFR 314, subpart H, and was later amended by FDASIA in 2012. Accelerated Approval is granted for drugs intended to treat serious conditions that provide a meaningful advantage over available therapies. Accelerated Approval allows approval based on surrogate endpoints, which are clinical endpoints that can be measured earlier than irreversible morbidity or mortality. However, the surrogate endpoints should predict the long-term endpoints. For example, progression-free survival is often considered a surrogate endpoint for overall survival in cancer trials.
The use of surrogate endpoints can expedite the time to approval of a new drug. Still, sponsors must confirm clinical benefit in a confirmatory study or the drug may be withdrawn from the market. Sponsors should discuss the potential for Accelerated Approval early on in development, as studies need to be designed using established surrogate endpoints, and the FDA does not have a set timeline for response.
In both 2017 and 2018, CDER only approved 10 NDAs with Accelerated Approval. These approvals included AstraZeneca's Imfinzi (durvalumab) for treatment of non-small cell lung cancer (NSCLC) and Bayer's Vitrakvi (larotrectinib) for adult and pediatric patients with solid tumors.
Priority Review Designation
Priority Review designation was initiated under the Prescription Drug User Fee Act (PDUFA) of 1992 to grant faster review to drugs that offer major advances in treatment or treatment for conditions with no existing adequate treatment. As dictated by PDUFA V, the standard NDA review time is 10 months, and six months for applications with Priority Review. There are additional avenues to obtaining Priority Review, such as the use of Priority Review vouchers, which are very valuable and therefore often sold to other companies.
Sponsors need to request Priority Review with the submission of their NDA. As noted above, Fast Track designation increases the likelihood that a product will be granted Priority Review. This, however, is not guaranteed, and the sponsor must still apply for the designation. The FDA responds to the request within 60 calendar days of the date of NDA submission.
In 2017, 28 of the 46 novel drugs approved were granted Priority Review. Similarly, in 2018, 43 of the 59 novel drugs approved were granted Priority Review. Priority Review approvals from 2018 include Amicus' Galafold (migalastat) for adults with Fabry disease who have a certain genetic change (variant) in an enzyme called alpha-galactosidase A (GLA) and Siga's TPOXX (tecovirimat) for smallpox.
Overall, CDER's expedited pathways offer sponsors the opportunity to potentially bring their drugs to market quicker and with more guidance from the FDA. The pathways are fairly similar, so it is important to note key differences (highlighted in Table 1) to determine where your product may fit. With the exception of Priority Review, expedited pathways must be requested before NDA submission and can impact the entire development process. While the main goal of these expedited pathways is to benefit patients in need, sponsors can potentially benefit from lower clinical trial costs, more time on the market, and market exclusivity.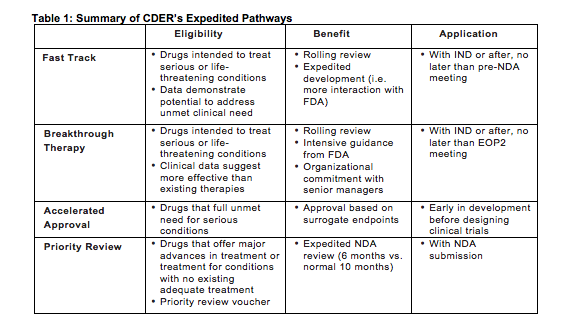 Table 1: Summary of CDER's Expedited Pathways resources: